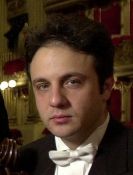 Born in Turin, Massimo Polidori completed his first studies with Maestro R. Brancaleon in the Musical Academy of his city, obtaining a diploma as a violoncellist with full marks.
Later, he went on to perfect his studies with A. Janigro, M. Brunello and D. Schafran.
In 1996 he won first prize as a virtuoso at the Geneva Musical Academy under the guidance of Daniel Gronsgurin.
Starting in 1995, he held the position of primary violoncello soloist for the following five years in the "Camerata Bern", with which he toured the world in the company of musicians of great standing such as A. Shiff, H. Holliger, A. Chumachenco and T. Zethmair, while also recording for Decca, Berlin Classic and Philips.
In February 2000, he was chosen by MaestroRiccardo Muti to take up the position of first violoncello in the Scala's Theatre Orchestra.
He has always been strongly committed to developing his repertoire of chamber music.
He also teaches at the "Accademia di Perfezionamento" for the Scala's orchestra professors.
Brahms - Schumanm